Parts One and Two are required reading before diving in here.
As a new page dawns, things look more or less the same as they did at the end of the last one. Our hero, sweatervest, acts as expected: he puffs up a little and doles out sarcasm. The most interesting thing about his sickly retort is a modified "Try to read between the lines" addressed to Treellama, which only goes to show how deeply Iritscen's immortal words embedded themselves in the Pfhorumsgoers' consciousness. Intrepid Treellama clarifies his earlier taunt, and his opponent can't help but pour a little more gasoline on himself: further attempts to impress Treellama and spectators with math terminology are apparently enough for sweatervest to think it safe enough to turn the tables: "You know if you really honestly believed that I made it this far in my educational career [...] then I would say it's time to call your intelligence into question." 0x9B5TERMISFORBIDDEN
Ryoko throws more Truth out there with his own rock-hard one-liner, "Granted, I'm not Treellama, but I think what he means to say is 'You're an idiot.'" It's really a remarkable trick: Ryoko isn't calling him an idiot, he's merely interpreting Treellama's words. The ploy works on cardigan for one sentence, but he throws around the T-word in the next line. Treellama and Ryoko both start up the juggernaut called Semantics (although they have the good taste not to use the word): TL asks why Mr. Math thinks the "integer" we want is exactly 2.5; Ryoko tries to throw another smoke bomb in by brining to bear the difference between trolling and flaming.
Sweatervest starts to make the really bad decisions now. Perhaps he never knew Ryoko studies architecture; perhaps he hopes that, by addressing Treellama, he will convince Ryoko to mind his own business. Either way, he steps on someone else's intellectual territory here and there is no turning back. In post 49 Ryoko schools the man(?) on common knowledge housebuilding details, no problem.
Fifty posts in, sweater literally asks for it: "Are there examples elsewhere of me showing my stupidity?" W'rk ambles along with some Derrida-style reduction and derivation, pointing out that "'It's a 2.5D computer game' could easily turn into 'it's a computer game,'" pretty much in vain. Ryoko, meanwhile, can't believe his eyes: "Is this an invitation for someone to list [examples]?" Cardi shows his odd mix of wisdom and foolishness by conceding defeat to Ryoko's mastery of the half-bath in one post, then replying to Ryoko's query with "Absolutely" in the next. Does he think Ryoko will be unable to comply with his request? No matter, he will soon see another head of the hydra that is STOMPED. First Wrkirons gets a little more 2D/3D shuffle off his chest. Ryoko uses quotestorms to illustrate points about sweatervest I made in the last two installments of this Essentials episode: struggles with subjectivity vs. objectivity; misinterpreting or exagerrating arguments; credentials razzamatazz; doing the preceding things so many times that Ryoko exceeded the post's quotation quota. If that's not cash and burn, what is?
Lave dollars seems to think complaining about a flamewar will make it go away. He should already recognize the hungry spark in Ryoko's dead Olmec eyes and abandon hope of the topic being locked. W'rk counters with his less lyrical version of "This is a throw down, a showdown, hell no I can't slow down." 2.71828183 * 3.14159265 * 299792458 m/s. $lave whines a little more, never realizing that this sort of thing is why he isn't in CLIQUE; I end the page about as stupidly as possible.
By this time, it is easy to believe the whole thing is about to blow over. No amount of JUICE can make the thread exceed anything we've already seen; sweatervest has taken several beatings; some or all parties are probably ready to call it quits. As we idled on IRC, such were our thoughts. We were dead wrong, and the fourth page will prove it, by hook or by crook. OK, the first three posts don't really give any indication of rising greatness. Our Adminazi tries to clarify something for reasons lost on me. Apparently comforted by this cool hand on his forehead, W'rk takes the opportunity to fortify his alliance with Ryoko. I give people an even greater reason to hate me.
Then we see a sign of what is coming to us. Crater Creator waltzes in, and we know what this means. It means we need to dig our trenches a little deeper, because it's going to be a long war. He tries to be helpful, but Bob Chamot is too naïf to understand that no definition can save us. We've moved on to meta-definitions, and not even God himself is capable from pulling man out of the pit of meta. Case in point: this, the first of many more word nukes sweatervest has sent raining from the heavens. As always, he seems very confused about where he stands, and what makes him innocent while others remain guilty. He tells Ryoko, "I was really hoping you wouldn't actually take me up on that offer, but you did." I can't believe this. "You took that much time and effort just to convince people that I am an idiot," he says a few sentences later, not realizing that this message will soon contain more than 1400 words.
He spends the rest of the post calling out to individuals. He tells W'rk "I don't really know the details about Marathon's engine (I assume it is a 2D engine because that would be the only good reason to use sprites… keep in mind the use of sprites does not directly have anything to do with how an engine works…" which simultaneously drops a hint that he is slightly clueless and tells us that he is calling an erstwhile "2.5D" engine a "2D" engine, simply because it uses sprites, although he says in the next sentence that use of sprites indicates nothing about an engine's dimensionality. This is the first of many clues that perhaps sweatervest has not actually played Marathon in his life, ever. Succeeding long ramblings on Doom that include a few too many instances of "i.e." is another tidbit: "I don't really know much about Marathon's engine." In the next paragraph, he tries again to define "2.5D" through difference:
I guess the biggest differences in 2.5D and 3D games is what they are capable of (in this case I am talking about 3D gameplay with a 2D engine, so it's really about what a 3D engine is capable of verses a 2D engine)
He also decides to use the original F-Zero game as an example of 2.5D-ness, which was probably not the best idea because it's not a FPS. Still, he tried. Finally, he addresses "Crator" (which, as you will see, loses him an ally eventually) by saying, "Unreal 3 is a completely 3D game, Space Invaders is a completely 2D game, and Marathon is right smack in the middle." Didn't he say it wasn't right smack in the middle earlier? Also, "verses" again ;_;
This is the first enormous chunk that we digest. Chinkeeyong decides it's that time of the month; he also manages to put in a good word for us by laying these words on sweatervest: "You realize you were the confrontational one, right? Throughout the thread, I really only saw you stubbornly holding your ground while the CLIQUE tried to correct you (with tons of flaming, I guess, but that's the way they swing)." He was always a good fan. Thornman Hoticelandicwomanizerson sees from cardi's wall of text that words are meaningless and opts for an image macro, promtping a similar reply from chinkee.
Treellama woke up on the wrong side of the bed: this allows him to weave a marvellous tapestry culminating in the zinger "You are six credits away from a degree that doesn't include an introduction to logic, apparently." Sweatervest pulls no punches, using comma shortage to create ambiguity from "God damn you must be a genius." Does he mean "God damn, you must be a genius" only, or would he like for us to parse the first three words as "God damn you?" But this is nothing. He crosses the fucking line as soon as he can by using the word "semantics," and it was this topic that inspired me to create a word filter that, as far as I know, exists to this day. DO NOT USE THIS WORD, EVER. EVER. NO ONE KNOWS WHAT IT MEANS.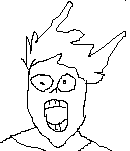 Sorry. Anyway, sweatervest bleeds a little more and, in the same post as "semantics," plays another forbidden card: Internet psychology. "And I simply cannot imagine," he says, "how insecure someone would have to be with him/herself to think it necessary to construct someone's 'Idiocy Tab'." Certainly he is far more secure:
Telling Internetters his credentials.
Posting 1,400 words at once in order to convince us he's right.
Blaming CLIQUE for all evil in the world.
But I digress. I run a blog with an AGENT ORANGE color scheme.
Treellama, with whom I was undoubtedly speaking on AIM at this point, is quick to mock cardi's use of the S-word. He also fights back against math degreeism. I probably decided to send him my Grados around this time: not a coincidence. I'm worthless once again. EPSTEIN butts in with his image of choice, and he basically makes us feel really warm and safe and happy.
Then another firewall flares up and we stop hugging. Sweatervest is now on a full-blown rampage. 1100 words are nothing to him. I must apologize: I've read this post three times now and I still can't tell what the hell he's saying with greater precision than "he is calling everyone meanies." If someone has anything to say about his message, post in the comments and I will amend what I have here, all with due credit. Please, guys, I'm dying inside…
W'rk is, as always, able to pluck the most quotable line from cardigan's offensive for especial reply: "Don't pay attention to that guy. He thinks if he doesn't agree with CLIQUE, he will be banned." We see the Psycho Hose Beast trying to cope with sweater's immensity, helpfully pointing out that nothing is consistent with anything anymore. He also earns a CLIQUE tax rebate by coining the phrase "glacier of text" to describe what cardi has done; I have been waiting for most of the page to be able to use this wonderful term. Thank you forever. I steal the spotlight (post #77) with a relevant image that still entertains me todayL: iTunes played a song called "Minotaur" in shuffle mode as I was reading the thread.
Even people like Ryoko and sweatervest have their limits (for now, anyway), and page four winds down mercifully. Ryoko tells me that there is no longer a topic. CC rages against the misspelling of his name, something I still find funny, because I think sweatervest encountered my own demon user account Crator Creater some time before this flamewar, and he learns the hard way that Tertor and Torter are not the same person. Plus, why is CC so uptight about this? It's not even his real name. Sweatervest feigns regret, noting that he "shouldn't have said that about the semantics," but his crocodile tears only serve as a stopping point for the fourth page of this "Discussion."